I had one of the best dreams the other night.
I was in Bellingham, and I was walking down Potter St. with Josh O'Donnell, and I guess in my dream Josh was on Western's swimming team. Anyway, he was trying to convince me that I should join, because I guess I was super talented at swimming. But I kept telling him
no way
and that I wasn't into it all. Also, in my dream, I was such a hot shot swimmer that people for some reason referred to me as The Chezz.
Anyway, after I got fed up with Josh begging me to join the team, I pulled out a metal sledding saucer, hopped on it, and started sledding down Franklin St. Mind you there was no snow.
Let me explain something very important about the reality of my dream. Now, in our every day reality swimming is an activity that looks a lot like this: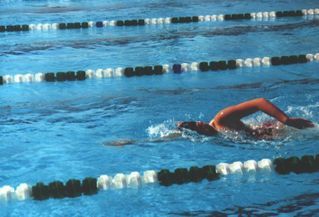 Not so in my dream. Instead, swimming looked much more like this:
minus of course the snow. and the saucer was metal.
So i'm
swimming
(sledding) down Franklin St. And I whiz by the swimming coach (who was played by actor Ben Stein). And he yells after me in frustration, "Oh, The Chezz doesn't want to swim. The Chezz is too good to swim."
And that's my dream!